Dr. Nathanael E. Schmiedicke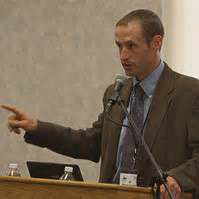 Dr. Nathan Schmiedicke was born the fifth of eleven children and raised on a small family farm in Michigan. He attended Catholic school through eighth grade and was home-schooled through High school. He studied at Thomas Aquinas College (CA), where he was chosen by his condiscipuli to deliver the graduating speech in 2000. After graduating with honors from TAC, he married his college sweetheart, Wendy (Youngclaus), to whom the Lord has given five sons as of March 2010.
He began graduate school at Marquette University (Milwaukee). He completed his Ph.D. in Biblical Theology in 2007 and began teaching Theology, Patristics, Scripture, and languages at St. Charles Borromeo Seminary in Philadelphia, PA and classics at nearby Villanova University.
After striking up a friendship with Mr. Michael in November 2008 and realizing a common passion for classical Catholic work, study and prayer, Dr. Schmiedicke decided to join the CLAA and will be directing the CLAA's Biblical Studies program and all Theology courses as of the Summer of 2010.
---
Curriculum Vitae
EDUCATION

2007 Completed Ph.D. Marquette University
Milwaukee, WI
2006 Completed doctoral coursework and qualifying Marquette University
exams with 4.0 GPA. Milwaukee, WI
2003 Completed M.A. in Theology, specializing in Marquette University
Old Testament Studies with 4.0 GPA. Milwaukee, WI
2000 B.A., Liberal Arts, 3.96 GPA. Thomas Aquinas College
Santa Paula, CA

1995-96 English Literature Major, 3.98 GPA. Franciscan University
of Steubenville, OH
AREA OF SPECIALTY
My Ph.D. is in Theology with a specialization in Old Testament, pentateuchal Studies. My dissertation is a narrative-theological reading of the story of the patriarch Jacob-Israel in Genesis focusing on the theological implications of the very tense relationship between God and Jacob.
HONORS AND RESEARCH AWARDS

2006-07 Recipient, Raynor Dissertation Fellowship
2003-06 Teaching Assistant: Dr. Patrick Carey
2004 Recipient, Milwaukee Polanki Polish Heritage Scholarship
2002-03 Teaching Assistant: Dr. Irfan Omar
2000 Graduating Class Speaker, Thomas Aquinas College
PROFESSIONAL ORGANIZATIONS AND MEMBERSHIPS
Catholic Biblical Association
Society of Biblical Literature
TEACHING EXPERIENCE

2010- Director and author of Biblical Studies program for Classical Liberal Arts Academy, www.classicalliberalarts.com .
2008-10 Adjunct professor of liberal arts at Villanova University, Villanova, PA. This is the university's required "Augustine and Culture Seminar" for all freshmen. It is a seminar-discussion method class focused on primary texts (Greeks, Romans, Old Testament/ New Testament, Augustine, Medievals, and Shakespeare) with a heavy emphasis on development of speaking and writing skills.
2008 During the summer I taught an intensive, graduate level course on the Pentateuch for the newly formed Aquinas Institute for Sacred Doctrine in Lander, Wyoming.
2007-10 Assistant professor at St. Charles Borromeo Seminary, Philadelphia. Taught classes for seminarians and evening and online courses for lay people in the community. Courses included Johannine literature, Patristics, Pentateuch, Luke-Acts, Foundational Course in Sacred Scripture, Wrestling with God, Introduction to Scripture, Catholic Belief, Latin, Biblical Hebrew.

2003-05 Prepared lectures and taught for professors on an as-needed basis for
undergraduate and graduate classes. Topics included fundamental theology, faith and revelation, Trinity and Incarnation, Christian ethics, Peace and justice issues, world religions, the Prophets, the Gospels, Genesis 1-3, Hebrew and Greek, and narrative analysis of the Bible. Marquette University, Milwaukee, WI.
2001 Substitute taught Senior Composition and Creative Writing. Wakefield Academy, The Plains, VA.
2000-01 Instructional assistant for high school students in English Literature, Logic, and American Government courses. Seton Home Study, Front Royal, VA.
FOREIGN LANGUAGES
Hebrew 3 years of tutorial or informal reading groups at MU. Continued personal
study and teaching.
Greek 2 semesters of tutorial at Marquette. Continued personal study.
Latin 2 years in high school and 2 years in undergraduate studies. Continued personal
study and teaching.

German Passed reading proficiency exam as part of M.A. coursework.
French Passed reading proficiency exam as part of Ph.D. coursework.
PUBLICATIONS/LECTURES
Paper given at the March 2009 "First Century Judaism" Conference at Thomas Aquinas College, Santa Paula, CA:
Israel is My Firstborn Son: The Exile and Restoration of Israel as the pre-enactment of the Paschal Mystery of Jesus Christ.
Paper given at the 2008 national Society of Biblical Literature conference in Boston:
Greater than Our Father Jacob: The Polemic with Vision Mysticism as Seen in the
Meeting of Jesus and Nathanael (John 1:47-51)
Paper given at the April 2008 "20th Century Judaism" Conference at the University of Dallas:
The American Rabbi and the German Pope: The theological dialogue in Rabbi Jacob Neusner's A Rabbi Talks with Jesus and Benedict XVI's Jesus of Nazareth.
Paper given at St. Charles Seminary's 2008 Marian Day
Of Being Born and Giving Birth: The Immaculate Conception and the Perpetual Virginity of Mary in Scripture and the Fathers of the Church.
Paper given at the 2006 North American Patristics Society conference in Chicago:
The Divine-Human Convention: Figurative Ambiguity in Scripture and God's Intention in St. Augustine's De Doctrina Christiana.
Paper given at the 2005 North American Patristics Society conference in Chicago:
"O Mystic Marvel! O Amazing Mystery!" Clement of Alexandria's Gynecological-Exegetical Argument and the Virginity in Parturition of the Mother of Jesus in Paedagogus I.6.

Book Review
Brevard Childs. The Struggle to Understand Isaiah as Christian Scripture. Faith and Reason
30 (Autumn-Winter) 2005, 335-337.
Research and Editorial work for Dr. Patrick Carey's books:
Catholics in America: A History. Praeger publishers, 2004.
The Early Works of Orestes A. Brownson, vols. 5 and 6. Marquette University Press, 2005.
The Biography of Avery Cardinal Dulles, forthcoming.
Committee Service
2007-2008 Served on the committee for buildings, grounds, and maintenance as part of St. Charles Seminary's self-evaluation for re-accreditation.

SERVICE
2002- 2006 Participated in chant and polyphony liturgical music choir, St. Anthony Parish,
Milwaukee, WI. Wrote introduction, "Singing with Stars and Angels: the Music of Christ, Creation, and Christmas" for our Christmas Music CD (Christmas, 2005).

2000- present Gave various public lectures, led Bible studies, and taught catechism at various
parishes and informal groups. List available upon request.
2008 - present Lector, Our Lady of Lourdes Parish, Philadelphia, PA