Dr. Taylor Marshall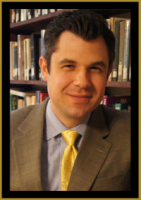 Dr. Marshall was an Episcopal priest in Fort Worth, Texas before he and his wife were received into the Catholic Church by Bishop Kevin Vann of Fort Worth on May 23, 2006. Immediately afterward, Taylor was appointed by Bishop Kevin Farrel (then auxiliary of Washington D.C.) as the Assistant Director of the Catholic Information Center in Washington, D.C., located three blocks north of the White House, where he lectured regularly. He served under Archbishop John J. Myers of Newark and Msgr. William Stetson for the Pastoral Provision of John Paul II, the canonical structure by which Anglican clergy are received into the Catholic Church and then go on to pursue Holy Orders in the Catholic Church.
He is the author of The Eternal City: Rome & the Origins of Catholic Christianity, The Crucified Rabbi: Judaism and the Origins of Catholic Christianity and The Catholic Perspective on Paul. He earned a Ph.D. in Philosophy at the University of Dallas. The title of his dissertation is "Thomas Aquinas on Natural Law and the Twofold Beatitude of Humanity."
Taylor and his wife live in Dallas, Texas with their six children.