Ken Baldwin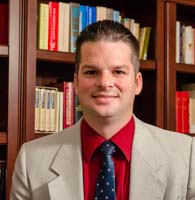 Ken Baldwin is the Director of Advancement for the St. Paul Center for Biblical Theology. Ken grew up in a devout Catholic home in Rockford, Michigan as the oldest of seven children. He graduated from Franciscan University with a degree in both Communication Arts and an MBA.
After graduation Ken worked for Franciscan University for seven years in the admissions and development office. For the past five years Ken has served in different advancement positions especially focused on major gift work and campaigns. He returns to Steubenville after directing the advancement operations at West Catholic High School in the diocese of Grand Rapids, Michigan.
Ken met his wife Maria at the university and they have two children so far, Kenneth David, Marianne and Therese.