Mark Hart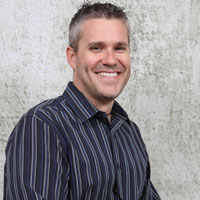 Mark Hart serves as Executive Vice President for Life Teen International. A graduate from the University of Notre Dame, Mark is a best-selling and award-winning author (or co-author) of over a dozen books. His wildly popular DVD Bible Study Series,"T3" is revolutionizing Catholic youth/young adult Scripture Study.
He has traveled the globe speaking to millions of souls, maintains a daily social media ministry (through Facebook and Twitter) and is a regular guest on several Catholic radio programs. Mark's weekly audio podcast (entitled Sunday, Sunday, Sunday), HD video spots (Beyond Words) and other original resources are utilized in youth groups, homes and classrooms in well over two dozen countries.
Mark's humor and his passion for Scripture are helping hundreds of thousands of Catholics, young and old, begin to read and study the Bible in engaging and relevant ways.
Mark and his wife, Melanie, have three daughters: Hope, Trinity and Faith and they live in Arizona.
---
Curriculum Vitae
PROFESSIONAL EXPERIENCE
2007-Present Executive Vice President, Life Teen
2005-2007 Vice President, Life Teen
2001-2005 Vice President of Evangelization & Media, Life Teen
1999-2001 Nat'l Director - Media, Catechesis & Evangelization, Life Teen
1997-1999 General Manager/Executive Producer, Life Teen Studios
1995-1997 Director of Youth Ministries, St. Maria Goretti Catholic Church

EDUCATIONAL BACKGROUND
B.A., University of Notre Dame (1991-1995) Communications Cum Laude
M.A. in progress

PROFESSIONAL QUALIFICATIONS
Certificate in Catholic Youth Ministry
Certificate in Advanced Theology for Catholic Youth Ministry
Certificate in Biblical Counseling
Mark has offered keynote presentations, led retreats and offered missions in over fifty dioceses across seven countries, including World Youth Day events, NFCYM gatherings, Eucharistic Congresses, and Franciscan University of Steubenville and University of Notre Dame Summer Youth Conferences.

ADVISORY WORK
"From the Hart" Productions (Founder, President, 1997-Present)
Diocese of Phoenix Office of Family Life & Catechesis (Advisory Board, 2005-2010)
Diocese of Phoenix Office of Natural Family Planning (Board of Directors, 1998-2008)
Diocese of Phoenix Office of Vocations (Board of Directors, 1997-2004)

AWARDS AND HONORS
2007 "Best Popular Presentation of the Faith" Book Award - Catholic Press Association
2004 "Communicator" Award, Writer/Producer, Outstanding Video Achievement, Religious Productions
2003 "Communicator" Award, On-Camera Talent, Outstanding Video Achievement, Religious Productions

PUBLICATIONS
BOOKS (Author or Co-Author)
• Embracing God's Plan for Marriage: A Scripture Study for Couples (Ijamsville, MD: Word Among Us Press, 2012)
• Moving Forward: Staying Catholic in College (Mesa, AZ: Life Teen, 2012)
• Now What: A Teen Guide to Discernment (Mesa, AZ: Life Teen, 2012)
• Holier than Thou: Amazing Saint Stories You Have to Read to Believe (Mesa, AZ: Life Teen, 2011)
• More Than Words: A Guide to the New Roman Missal (Mesa, AZ: Life Teen, 2011)
• Come Walk: A Teen Guide to the Stations of the Cross (Mesa, AZ: Life Teen Press, 2010)
• The "R" Father (Ijamsville, MD: Word Among Us Press, 2010)
• Finding Yourself in Scripture (Mesa, AZ: Life Teen Press, 2010)
• Come Adore: A Teen Guide to Eucharistic Adoration (Mesa, AZ: Life Teen, 2010)
• Come Clean: A Teen Guide to Reconciliation (Mesa, AZ: Life Teen Press, 2009)
• Life Teen Catholic Teen Bible (Mesa, AZ: Life Teen Press, 2009)
• 40 More: 40 Days of Scripture, Reflection & Prayer (Mesa, AZ: Life Teen Press, 2008)
• Sword of the Spirit: A Beginner's Guide to St. Paul (Mesa, AZ: Life Teen Press, 2008)
• Saintbook (Mesa, AZ: Life Teen Press, 2008)
• 100 Things Every Catholic Teen Should Know (Mesa, AZ: Life Teen Press, 2007)
• Core Values: A Spiritual Guide for Core Members (Mesa, AZ: Life Teen Press, 2007)
• Ask the Bible Geek 2: More Answers to Questions from Catholic Teens (Cincinnati, OH: Servant Books, 2007)
• Blessed are the Bored in Spirit: A Young Catholic's Search for Meaning (Cincinnati, OH: Servant Books, 2006)
• Ask the Bible Geek: Answers to Questions from Catholic Teens (Cincinnati, OH: Servant Books, 2003)

DVD Bible Studies
• T3 Revelation: The Lion and the Lamb (West Chester, PA: Ascension Press, 2009)
• T3 Acts: The Keys and the Sword (West Chester, PA: Ascension Press, 2009)
• T3 Matthew: Thy Kingdom Come (West Chester, PA: Ascension Press, 2007)
• T3: The Teen Timeline (West Chester, PA: Ascension Press, 2006)

POPULAR PUBLICATIONS, PERIODICALS
Op-ed writer/blogger, National Catholic Register
Op-ed writer/blogger, Word Among Us