Matthew Leonard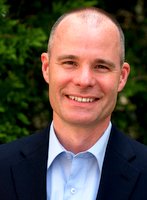 Matthew Leonard is an internationally known speaker, author, podcaster, and Executive Director of the St. Paul Center for Biblical Theology.
A convert to Catholicism and former missionary to Latin America, Matthew is a frequent guest on radio and television programs across the country appearing on SiriusXM, EWTN, CBS, and the Magnificat, among others. He hosts a popular podcast on iTunes titled "The Art of Catholic." Matthew produces and hosts the dynamic Journey Through Scripture video series for the St. Paul Center, and is a featured speaker by Lighthouse Catholic Media. He also holds a Masters in Theology from Franciscan University of Steubenville.
Prior to his work at the Center, he served as Vice President at Ave Maria College, as well as the President and Partner at Blue Development Group, a real estate company based in Chicago.
In addition to numerous articles, Matthew is the author of two books, Louder Than Words: The Art of Living as a Catholic and Prayer Works! Getting A Grip On Catholic Spirituality. Matthew lives in Ohio with his wife Veronica and their five children. Learn more about him at MatthewSLeonard.com.