Matthew Leonard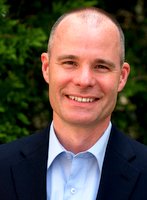 Matthew Leonard is the Executive Director of the St. Paul Center. An internationally-known speaker and author, he travels far and wide speaking to Catholic audiences and leading Journey Through Scripture, the St. Paul Center's parish-based Bible study program. His books, "Louder Than Words: The Art of Living as a Catholic" and "Prayer Works!" are published through Our Sunday Visitor.
Prior to his conversion to Catholicism in 1998, Matthew served as a missionary in Latin America. After entering the Church, he obtained a Master's degree in Theology from the Franciscan University of Steubenville before becoming vice president and guest theology instructor at Ave Maria College. He has been heard and seen in places like "Deep in Scripture with Marcus Grodi", Sirius Radio, and Our Sunday Visitor.
Before entering the non-profit world, Matthew was partner and president of a Chicago-based real estate development firm. The father of four, he and his wife Veronica now make their home in Ohio.
Follow Matthew on Twitter @MattSLeonard.