Ximena DeBroeck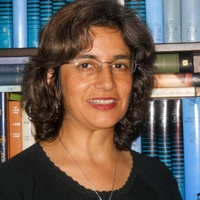 Ximena earned a MA in theology with a concentration in Sacred Scripture and a minor in systematic theology from Saint Vincent Seminary. She graduated with highest honors and received the 2009 Scripture Award. She has completed her coursework as a systematic theology doctoral student at Duquesne University.
Ximena is adjunct faculty at Saint Vincent Seminary in Latrobe, PA, as well as faculty for the Certificate of Pastoral Ministry offered through Seton Hill University and the Diocese of Greensburg. She also serves the Diocese of Greensburg as instructor for Pathways, a formation program which invites the adult Catholic to journey toward a deeper understanding of the faith.
Additionally, she was recently appointed as liaison for human formation for the Diocese of Greensburg permanent diaconate program. As a member of faculty for the permanent diaconate program in the Diocese of Altoona-Johnstown, she conducts 6 yearly retreats for the wives of men in the formation program.
As research fellow for the St. Paul Center for Biblical Theology, Ximena has revised the final version of the Spanish translations of Journey Through Scripture study program and has taught sessions for the Bible and the Virgin Mary presenter training course.
She is passionate about catechesis and evangelization and has offered numerous adult formation sessions in the dioceses of Greensburg and Pittsburgh. She has also served as Pastoral Coordinator for the Archdiocese for the Military Services in England, and as Coordinator of Faith Formation for Blessed Sacrament Cathedral in Greensburg.
---
Curriculum Vitae
Education Doctoral Student at Duquesne University, Pittsburgh, PA – Systematic Theology M.A. Theology 2009 – St. Vincent Seminary, Latrobe, PA major in Sacred Scripture and minor in Systematic Theology B.S.N. 1985 – University of Texas at Austin, Austin, TX EXPERIENCE Liaison for human formation for the permanent diaconate program, Diocese of Greensburg, PA (2012) Adjunct Faculty at St. Vincent Seminary, Latrobe, PA (2009 - present) Adjunct Faculty at Seton Hill University, Greensburg, PA (2010-present) Pathways (Adult Formation Program) faculty, Diocese of Greensburg, PA (2009 – present) Faculty - Permanent Diaconate Program – Diocese of Altoona-Johnstown, PA (2009-present) Master Catechist, Diocese of Pittsburgh (2010-present) Master Catechist, Diocese of Greensburg (2011-present) Guest Speaker – Adult Formation, RCIA & Marriage Preparation – various parishes in Greensburg, and Pittsburgh (2009-present) Coordinator of Faith Formation – Blessed Sacrament Cathedral, Greensburg, PA (2006-2009) Pastoral Coordinator – Archdiocese for the Military Services (2004 – 2005) Honors / Awards M.A. Theology with Highest Honors Recipient of Scripture Award graduating class St. Vincent Seminary, Latrobe, PA