Lessons from the Early Church
---
Listening to the Fathers Today
Our individual identities are shaped by and linked to our parents and the stories of our families. As a Church, our identity is linked to and shaped by our fathers and mothers in the faith, the earliest Christians. What do those early Christians have to say that is of relevance to the contemporary Church? How is our understanding of liturgy shaped by what Jesus' followers in the first centuries believed and practiced? Have the changes in the eucharist brought us closer to the ancient church or separated us from our roots?
These are some of the questions Mike Aquilina, St. Paul Center's Executive Vice President,Carl Sommer and Rod Bennett, will address in this five part series as they examine the faith, and particularly the liturgy, from the vantage point of the early Christians. Tackle those questions and more in Lessons from the Early Church.
---
Course Registration
(The Lessons are listed in the right-hand column.)
Courses are free! But we do ask that you register. You will be prompted for your E-mail Address and directed to a page where you will be asked for your Name, E-mail Address, Address and Phone Number. This is for our informational purposes only. We will not lend or sell your contact information to anyone else. Thanks for your cooperation. Click here to register
Important Note:
You only have to register once. Please do not register with each course. A password is not needed and will not be given to you. Once you have registered return to this page or any of the other courses to begin studying. The lessons are listed in the column on the right.
---
For Further Reading:
The Fathers of the Church (Expanded) - by Mike Aquiina
The Fathers of the Church, first published a decade ago, has become the standard popular introduction to the great teachers of early Christianity. Now, this new edition presents more material from more of the Fathers—including authors from little-known traditions of Egypt, East Syria, North Africa, and the lands that make up modern Iran and Iraq. Also new with this edition is a section on selected "Mothers of the Church," holy women from Christian antiquity.
---
The Mass of the Early Christians - by Mike Aquilina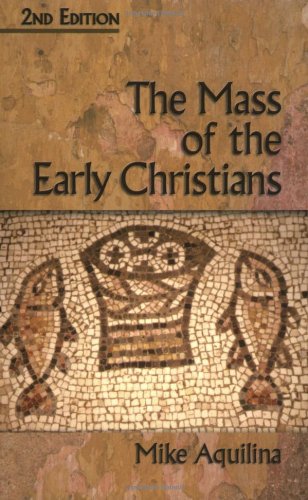 ---
Four Witnesses: The Early Church in Her Own Words - By Rod Bennett
---
We Look For a Kingdom: The Everyday Lives of the Early Christians - Carl Sommer