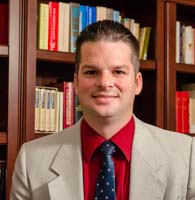 Ken Baldwin grew up in a devout Catholic home in Rockford, Michigan as the oldest of seven children.  He holds a BA in Communication Arts and Masters Degree in Business from Franciscan University of Steubenville.
Ken joined the St. Paul Center in 2013 after serving West Catholic High School in the Diocese of Grand Rapids and Franciscan University. Ken helped bring the St. Paul Center's Building for the Future Campaign to a successful completion and has helped expand the Center's growth and sustainability which has seen the organization more than double in size the past two years.
Ken met his wife Maria at Franciscan University and together they have five children so far: Kenneth David, Marianne Rose, Therese Margaret, Roman, and Judah.